If you're in marketing or sales, you've probably heard people talking about ICPs or ideal client profiles. If not, you should have something that refers to the ideal customer, or ideal buyer.
An ideal customer profile (ICP) is a description of the company — not the individual buyer or end user — that's a perfect fit for your solution.
Your ICP should focus on relevant characteristics of your target accounts, such as:
Industry/vertical
Employee headcount — companywide and within key departments
Annual revenue
Budget
Geography
Technology they use
Size of their customer base
Level of organizational or technological maturity
Ideal Customer Profiles vs. Buyer Personas
B2B marketers often question the difference between an ICP and a buyer persona. Does your ideal customer profile replace your buyer personas? Do you need both?
ICPs and buyer personas are not the same thing, but they are closely linked.
While Account Based Marketing is focused on accounts rather than leads, it's important to remember that each account is still made up of individuals with diverse roles and priorities. This is where your buyer personas come in.
For example, you may decide that the presence of specific stakeholders at an account is a key characteristic of your ideal customer profile.
Keep these tips in mind when lead cultivating [Infographic]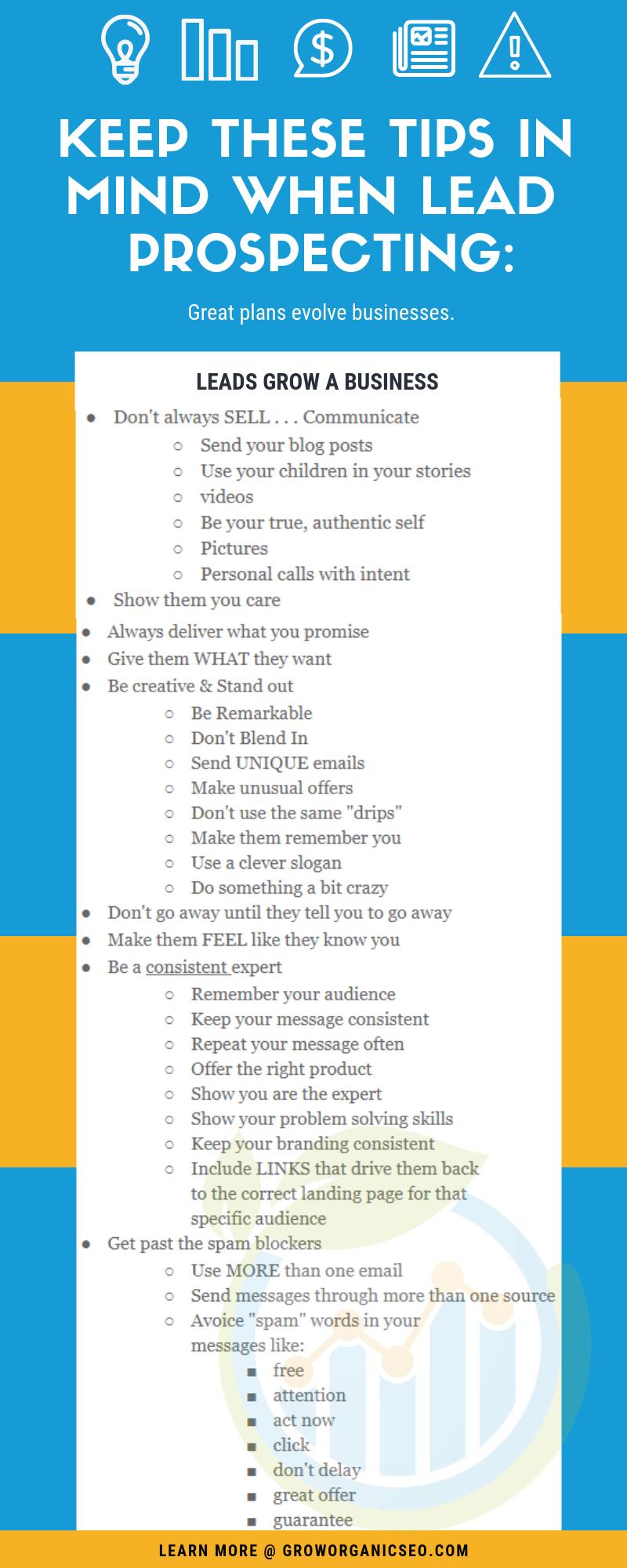 Congratulations, you now have down your ideal customer profiles. You even identified some relevant characteristics from your other accounts. But now you need to more about the individuals, or, segments.
Your ELK's ICPs and Generating Prospects
Before we can get into our segments, we need only to worry about one segment: your ideal customer. I like to call this ideal customer our "Elk". The better we serve our Elk, the better we know our own business. Let me explain…
…we want to identify our Elk and all of his or her intimate details, including what they like, hated, want and don't want. The more we serve them and gain feedback, the better the business we become. We cater our services and products to them.
Let's use a sample Elk for example.
My Elk Title/Role: Entrepreneur/Small Business Owner
Details: successful, past or current business success, current success for at least 3 years, are aware, drive trucks 45-55, or BMWs 24-35, local businesses, startups that are trying to keep their sales and marketing together at the seams…they can't afford to go backward….training the staff now is super important….what do you have to lose (at worst)…what do you have to gain (at best)…what do you have to lose (at best)?
Profession: Lawyer, Entrepreneurs, Insurance Agents
Annual Net: 500K-1M
Mindset s-curve: I've got the magic – from scrappy to leading my team.
Investing In: Help
External problem: Marketing and sales systems with/for and SEO. Training Marketing and Sales team
Internal problem: GROWTH and leadership/internal processes for online growth…they can't afford to go backward
Greatest fear (The greatest fear should be so frightening it keeps them up at night): failing/going backward. Failing their family. Harming Self-Image
Now let's dig deeper into the emotions and subconscious of my Elk.
What is My Elk's Pain?
– trying to keep his sales and marketing together at the seams…
– they can't afford to go backward….
– training their staff now is super important
– they need to get their online presence up to par
It might do me right to research other possible, not so good, solutions before I start describing the best solution and why it's the best. Of course, this is also my product or service.
My Product/Solution:
Elk Food/Product: Reputation Management (listings and reviews) + Organic Growth Consulting and Maintenance
Elk Food/Service: Analysis